Get in Touch
4495 Town Hall Road
Phelps, WI 54554
Phone: (715) 545-2887
director@phelps.wislib.org
Library Hours
Mon/Tue 10am-4pm
Wednesday 2pm-6pm
Thur/Fri 10am-4pm
Saturday 10am-1pm
Curbside available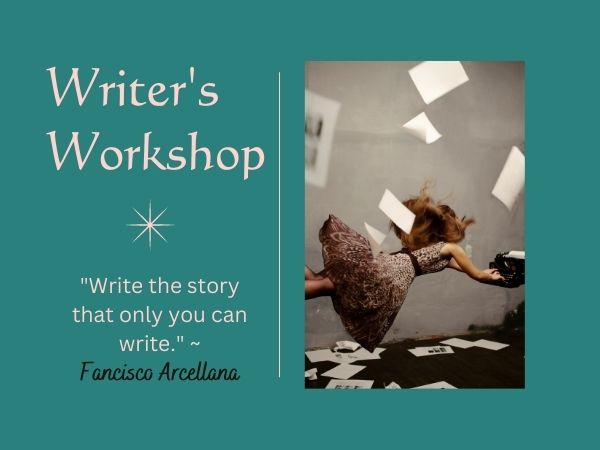 Writer's Workshop
Writer's Workshop meets monthly. Watch our website for dates and times.
Writers at any level of writing are invited to participate. Activities include group submissions, critiquing, sharing publishing possibilities as well as writing mechanics and more.
If you are interested in finding support fueled by inspiration or being that support to someone, come join us!
For more information, call the library at 715-545-2887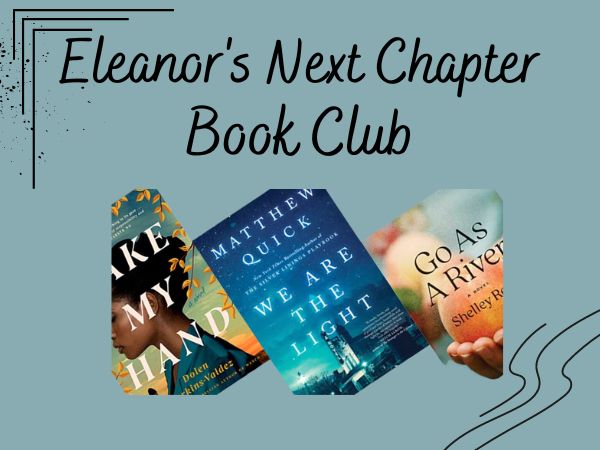 Eleanor's Next Chapter Book Club
Meeting Dates and Times are varied, so watch here for the information or call the library…
Book choices are recommended and voted on by the whole group. The library will have copies of the monthly book choice available. Call if you prefer special formatting such as Large Print or Audio. 715-545-2887 We will have various facilitators each month.
Come join us for a relaxing and engaging discussion.
Upcoming 2023 Book Choices: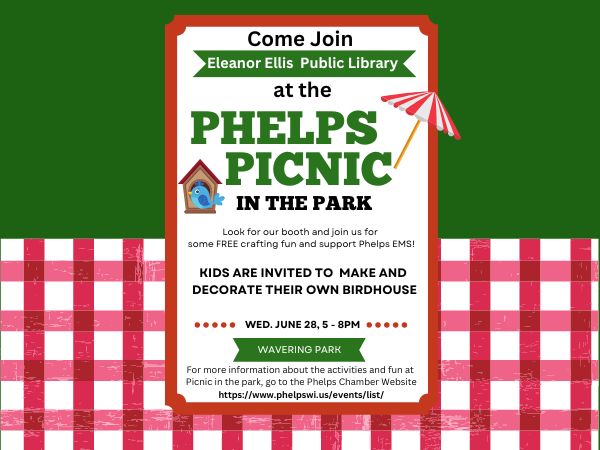 PHELPS PICNIC IN THE PARK at WAVERING PARK Wednesday, June 28th, 5pm - 8pm Sponsored by the Northwoods Livingcare Foundation, After an absence of three years, the Northwoods Living Care Foundation Picnic in the Park event is scheduled for Wednesday, June 28 from 5-8pm...
read more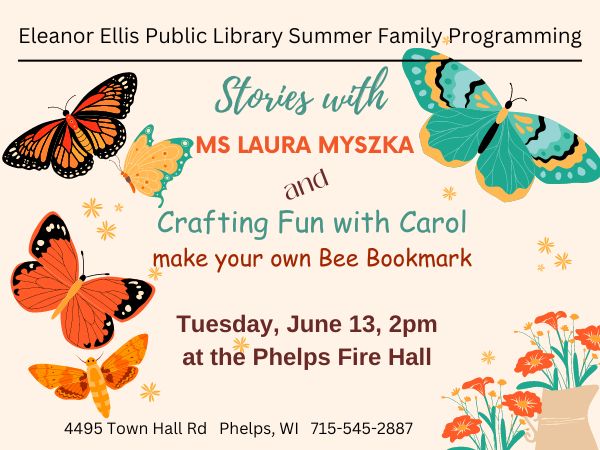 Bring your littles and your bigs for a great time with Ms Laura Myszka, our seasoned Story Teller. and Enjoy a crafting session with Ms Carol. We will be making super cool Bee Bookmarks.  This program is part of our Summer Family Programming Series and is FREE for...
read more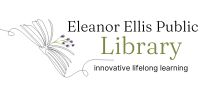 Eleanor Ellis Public Library
4495 Town Hall Road
Phelps, WI 54554
Phone: (715) 545-2887
Monday 10am-4pm
Tuesday 10am-4pm
Wednesday 2pm-6pm
Thursday 10am-4pm
Friday 10am-4pm
Saturday 10am-1pm
Curbside available.