 4495 Town Hall Road
Phelps, WI 54554
Phone: (715) 545-2887
director@phelps.wislib.org

Monday 10am-4pm
Tuesday 10am-4pm
Wednesday 2pm-6pm
Thursday 10am-4pm
Friday 10am-4pm
Saturday 10am-1pm
Curbside available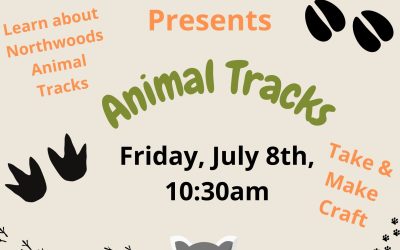 Trees for Tomorrow Presents: Animal Tracks on Friday, July 8th at 10:30am. Animals in the wild are hard to get close to, but often leave their tracks. Participants will learn to recognize the tracks of the animals that live in the Northwoods. There will also be an...
read more
Eleanor Ellis Public Library
4495 Town Hall Road
Phelps, WI 54554
Phone: (715) 545-2887
Monday 10am-4pm
Tuesday 10am-4pm
Wednesday 2pm-6pm
Thursday 10am-4pm
Friday 10am-4pm
Saturday 10am-1pm
Curbside available.