 4495 Town Hall Road
Phelps, WI 54554
Phone: (715) 545-2887
director@phelps.wislib.org

Monday 10am-4pm
Tuesday 10am-4pm
Wednesday 2pm-6pm
Thursday 10am-4pm
Friday 10am-4pm
Saturday 10am-1pm
Curbside available What's New at Phelps?
Looking for a good read? How about a new movie or audiobook?
Here are titles added recently to the EEPL.
Community Reviews
Book reviews submitted by Phelps readers!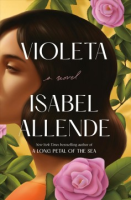 Book Review Submitted by David M. Esque Violeta, by Isabel Allende Published January 25, 2022 The story of Violeta; from birth through a long,...
read more
Eleanor Ellis Public Library
4495 Town Hall Road
Phelps, WI 54554
Phone: (715) 545-2887
Monday 10am-4pm
Tuesday 10am-4pm
Wednesday 2pm-6pm
Thursday 10am-4pm
Friday 10am-4pm
Saturday 10am-1pm
Curbside available.