 4495 Town Hall Road
Phelps, WI 54554
Phone: (715) 545-2887
director@phelps.wislib.org

Monday 10am-4pm
Tuesday 10am-4pm
Wednesday 2pm-6pm
Thursday 10am-4pm
Friday 10am-4pm
Saturday 10am-1pm
Curbside available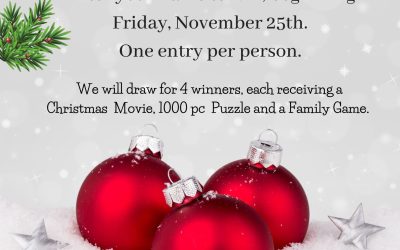 Coming up... Beginning Friday, November 25th, enter your name in our Christmas Drawing. There will be 4 winners, each receiving a Christmas Movie on DVD, a 1000 pc Puzzle and a Family Game. Drawing will take place on Friday, December 9th. Movies on DVD include: What a...
read more
Eleanor Ellis Public Library
4495 Town Hall Road
Phelps, WI 54554
Phone: (715) 545-2887
Monday 10am-4pm
Tuesday 10am-4pm
Wednesday 2pm-6pm
Thursday 10am-4pm
Friday 10am-4pm
Saturday 10am-1pm
Curbside available.